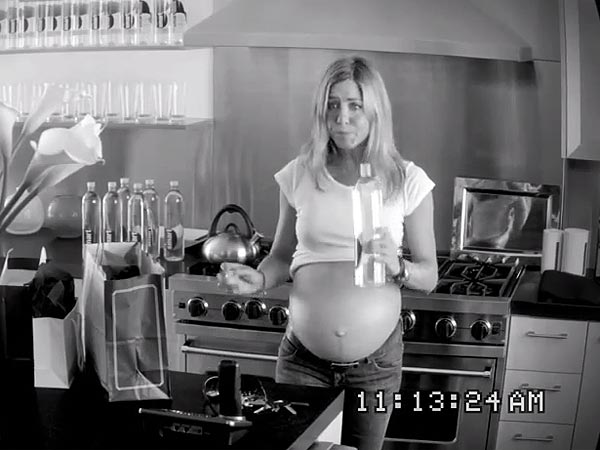 Jennifer Aniston in Smartwater ad
It's official:
Jennifer Aniston
is a mother-to-be â€" in a funny new commercial.
"How are my little triplets doing?" she asks her enormous baby bump, which is exposed for the entire world to see in a brand new â€" and very satirical â€" commercial for Glaceau Smartwater, for which the actress, 43, has been a paid pitchwoman since 2007.
The 2½-minute ad, introduced by Ryan Seacrest, pretends to be a leaked home-security tape.
What's revealed around Aniston's backyard pool, which is being filled with bottles of Smartwater by some hunky pool-boys, is her grown son, played by Jimmy Kimmel.
"Go upstairs and take a nap," Aniston tells the man-boy, right before his space-alien sibling comes out to join him.
But wait, there's more. The truth about Aniston's enviable hair? Well, watch the video below and see.